In the live chat of German Aidshilfe on www.gayhealthchat.de gays provide advice for gays and other men who have sex with men - direct, anonymous and free. You can reach them daily between 5 PM and 8 PM.
They are at your disposal for any questions about sexual health and gay life.
Next Date
Health check in the Aidshilfe
learn more
News
The most important information about Mpox (monkeypox)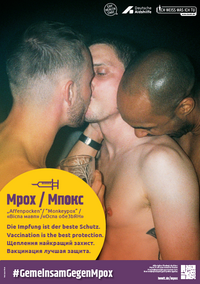 As of May 2022, there was an outbreak of Mpox ("monkeypox") mainly in sexual networks of men who have sex with men (MSM).
Since October 2022, only a few cases have been reported each week in Germany, mainly because many MSM have changed their behavior and, for example, reduced the number of sex partners.
Mpox is not "over" and can affect anyone. Infections and new outbreaks are possible - even when traveling/at events abroad.
The best protection against Mpox/"monkeypox" is vaccination - usually in two doses at least 28 days apart. Enough vaccine has been available in Germany since fall 2022. Vaccination is especially important if you have changing sex partners. Detailed information on vaccination and vaccination centers is available at aidshilfe.de/affenpocken-impfung.
Information on vaccination possibilities in Saarland can be found on our special page.
The most important questions and answers about Mpox can be found on the pages of the Deutsche Aidshilfe.
Translated with www.DeepL.com/Translator (free version)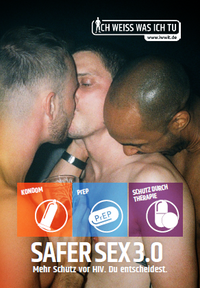 With the condom, PrEP (the precaution pill against HIV) and protection by therapy, we now have three methods available to safely protect against HIV if used properly.
Which safer sex method suits you best? Here we give you important information about the methods.