In the live chat of German Aidshilfe on www.gayhealthchat.de gays provide advice for gays and other men who have sex with men - direct, anonymous and free. You can reach them daily between 5 PM and 8 PM.
They are at your disposal for any questions about sexual health and gay life.
Next Date
Health check in the Aidshilfe
learn more
News
Test it!: Special rules because of CORONA (Covid-19)
In case of flu-like symptoms (e.g. fever, coughing, infection-related shortness of breath) or contact with a person diagnosed with Corona, you CANNOT make use of our testing offer.
You must wear a FFP2-mask (covering mouth and nose). We also ask you to disinfect your hands when entering.
Should the maximum amount of waiting space be occupied we ask you to come again later.
For further information or if you have any questions, please contact us by phone on 0681 - 19 4 11.
Monkeypox (also MPXV or MPX)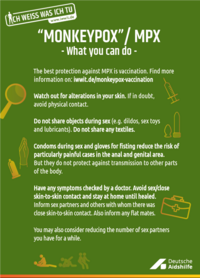 ATTENTION!: From now on, preventive protective vaccinations (indication vaccinations) against monkeypox are also available in Saarland. The vaccinations are initially only available for men who have sex with men (MSM), change partners more frequently and are at least 18 years old. For more information, see our special page.
"Monkeypox" / MPX is spreading among men who have sex with men
The most common route of transmission is close, prolonged skin/mucous membrane contact with skin lesions or scabs - especially during sex. MPX can also be transmitted via objects,e.g. sex toys, clothing, bed linen or towels. Further information: iwwit.de/monkeypox-transmission
Typical symptoms include occasionally extremely painful skin lesions – including everything from spots/rashes to blisters to sores and scabs.
These usually start at the spot the virus entered the body - often in or around the mouth, penis/genital area, or anus.
The infection heals on its own but may leave scars.
Transmission remains possible until all wounds have healed, the scabs have fallen off and a new layer of skin has formed. This can take several weeks.
"MONKEYPOX"/ MPX - What you can do
The best protection against MPX is vaccination. Find more information on: iwwit.de/monkeypox-vaccination
Watch out for alterations in your skin. If in doubt, avoid physical contact.
Do not share objects during sex (e.g. dildos, sex toys and lubricants). Do not share any textiles.
Condoms during sex and gloves for fisting reduce the risk of particularly painful cases in the anal and genital area. But they do not protect against transmission to other parts of the body.
Have any symptoms checked by a doctor. Avoid sex/close skin-to-skin contact and stay at home until healed. Inform sex partners and others with whom there was close skin-to-skin contact. Also inform any flat mates.
You may also consider reducing the number of sex partners you have for a while.
Find out more at: iwwit.de/monkeypox



With the condom, PrEP (the precaution pill against HIV) and protection by therapy, we now have three methods available to safely protect against HIV if used properly.
Which safer sex method suits you best? Here we give you important information about the methods.