In the live chat of German Aidshilfe on www.gayhealthchat.de gays provide advice for gays and other men who have sex with men - direct, anonymous and free. You can reach them daily between 5 PM and 8 PM.
They are at your disposal for any questions about sexual health and gay life.
Next Date
Health check in the Aidshilfe
learn more
News
Test it!: Special rules because of CORONA (Covid-19)
In case of flu-like symptoms (e.g. fever, coughing, infection-related shortness of breath), visit of a risk area within the last 14 days or contact with a person diagnosed with Corona, you CANNOT make use of our testing offer.
You must wear a face mask (covering mouth and nose). In a case you do not have one, we provide one for you. We also ask you to disinfect your hands when entering.
Should the maximum amount of waiting space be occupied we ask you to come again later.
For further information or if you have any questions, please contact us by phone on 0681 - 19 4 11.
Monthly PrEP consultation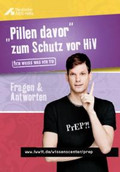 There are many questions around the PrEP: "How safe is it?", "What must I bear in mind?", "What are the advantages and disadvantages compared with other safer sex methods?", "Is PrEP suitable for me as a prevention method? " or "Where do I get the PrEP and how much does it cost?"
Therefore we offer an open PrEP consultation once a month in the Aidshilfe rooms, the next time on Wednesday
each time from 6 PM to 8 PM.
But you can also arrange consultation appointments with us outside the PrEP consultation hours.
Exacto HIV self-tests are now available in the Aidshilfe Center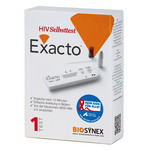 The Exacto HIV self-test can be bought from us now for the price of 20 euros, the double pack costs 35 euros.
The HIV self-test is an HIV test that can be easily performed by yourself, e.g. at home. It is a pure antibody test and provides a safe result 3 months after the last risk contact. Further important information about HIV self-tests can be found here.
On request, we offer you the opportunity to carry out the HIV self-tests together with one of our consultants. For this we ask you to make an appointment with us on 0681 - 19 4 11. Of course we offer the test confidentially and anonymously. Disclosing your name is not necessary when making an appointment.



With the condom, PrEP (the precaution pill against HIV) and protection by therapy, we now have three methods available to safely protect against HIV if used properly.
Which safer sex method suits you best? Here we give you important information about the methods.