In the live chat of German Aidshilfe on www.health-support.de gays provide advice for gays and other men who have sex with men - direct, anonymous and free. You can reach them daily between 5 PM and 8 PM.
They are at your disposal for any questions about sexual health and gay life.
Next Date
Health check in the Aidshilfe
learn more
News
Due to the current development of the ongoing pandemic of coronavirus disease, we are unfortunately forced to pause our consulting and test offer "Test it!" until finally 26. april 2020. We hope for your understanding and for the situation to normalize again soon.
For further information or if you have any questions, please contact us by phone on 0681 - 19 4 11.
Health insurance funding of the HIV PrEP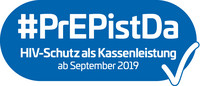 Since September 1, 2019, people with a substantial HIV risk have been entitled to the drugs and necessary examinations for the HIV prophylaxis PrEP, provided that they have statutory health insurance and are at least 16 years old.
Who exactly has such an increased HIV risk, what services the PrEP includes and which doctors may prescribe the PrEP, has been determined in late July by the Kassenärztliche Bundesvereinigung (Federal Association of Doctors in the Statutory System) and the Central Association of Statutory Health Insurances and has now been published.
You can find further information about this on Safer Sex 3.0.



With the condom, PrEP (the precaution pill against HIV) and protection by therapy, we now have three methods available to safely protect against HIV if used properly.
Which safer sex method suits you best? Here we give you important information about the methods.